July 14, 2006
Ted Nugent Son Surfaces in Carrboro!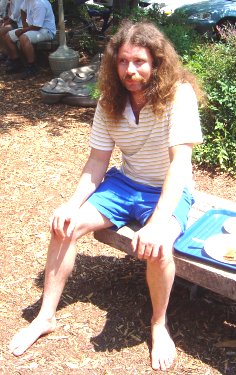 To all the other little surprises that make Carrboro what it is, we have one more to add! Ted Nugent's son is alive and well and living in Carrboro!
The first time I spotted him wandering aimlessly across the Weaver Street lawn dressed in only a pair of shorts with long reddish brown hair halfway to his waist, I said to myself "I recognize that hair!" For days I couldn't get his image out of my mind and then finally it all came together when I received that piece of junk mail from the modern American "freedom fighters", the NRA(National Rifle Association). As I immersed myself in their literature it suddenly dawned on me..."What the hell are these guys called the National Rifle Association for?". If they wanted to be honest with the American People they would call themselves the "FUHRER(Fractional Uzi Handgun Rifle Enlistment Rambos)... As I pondered the hypocrisy of it all, I suddenly remembered Ted Nugent's complete and total embrace of the NRA... and that long reddish/Brown hair.
"My God!", I screamed to myself, almost waking up my whole household, "That's where I saw that hair." Hardly able to contain myself, I searched the net for all the information I could find(which wasn't much). To the best of my knowledge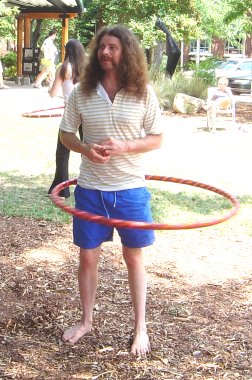 Ted's son was born 9 months after his late 60's gig when he overestimated his draw power and played to a 5% capacity crowd at the Greensboro Coliseum. Drowning his disappointment after the show he met his son's mother as they went on their first and only date.
His son, Von, lived in relative anonymity, until The Carrboro News unearthed his link to one of the Heavy Metal giants of his day. Despite being his father's son, he is still able to eat his breakfast in relative quiet without being rushed by well-wishers and autograph seekers but the onslaught of souvenir seeking photographers(like us) rarely leave him alone when he is engaging in one of his favorite past times- Hoola Hooping(But I think in modern times we now refer it as the politically correct "Hooping". We are happy to see that he traded in his father's gun for a hoop!"
Despite his star-studded lineage, Von is very approachable and will be happy to talk to you about his dad and anything else you may find of interest. And The Carrboro News, although we regret that we have shattered his serene life just for the sake of a good story, continues to stand by it's strict adherence to journalistic etiquette and has honored Von's wish not to tell our audience that he has a heavy addiction to his homemade Banana Rum Ice Cream- which is why you will see him hauling around his ice cream maker or sitting on the bench turning the crank for 30 minutes! If you see him making the ice cream, please don't ask him for a taste, he likes to share it with his closest friends, but dad didn't leave him with the financial resources to feed all of Carrboro!