July 11, 2006
Weaver Street Market to Extend membership to Canines!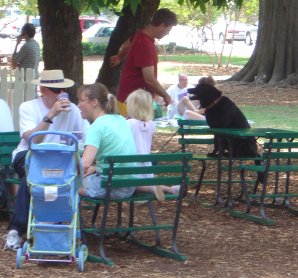 In a move that solidifies Weaver Street Market's reputation as the leader of the Carrboro Health Food Association, WSM has decided to offer memberships to our community dogs.
"Dogs are part of the community as a whole...so why not?" stated one unnamed employee, "They sit at the tables, eat from the plates, drink from the bowls and use our restrooms,"(Referring the outhouses located in the front commons area outside the store also know as the "grass"). " We might as well get them to pay their dues also!".
There were various plans floated but the two that gained the most support were:
1) Extended family membership which would add the canine onto the family membership for another $50(one time membership fee). The dog would receive 5% off selected dog foods but would also have to volunteer 2 hours a week(among other things, as part of it's service it could relieve the night watchman for a few hours!)
2) A special membership for the dog. This would be for $35 and would only offer the dog basic membership privileges(food, water and toilet- but no discounts).
The second option passed with overwhelming support at the emergency board meeting called two weeks ago.
For some who are surprised at this move, it was a long time coming. Last year, WSM floated the idea of raising membership rates for existing members without increasing the benefits. That proposal went over like a lead brick and WSM was forced to look at other revenue raising ideas.
"The Canine Registry Amendment Program(CRAP) was by far the best idea for increasing revenue that we have seen in years!", applauded one active member. "I've always felt guilty about bringing my dog here, but this now validates Marcus as a legitimate participant in our coop/health food store experiment. His therapist will be very happy to hear this!."
Still to be decided is whether the canines will have voting rights and if so, whether they will get a full or partial vote. At present, this isn't a major issue, but it is projected that by 2012, the canines will have a working majority which could very well jeopardize the direction WSM will be moving!"
See what your neighbors think about Membership for Weaver Street Dogs