July 15, 2006
Hooping It Up in Carrboro!
From it's humble beginnings in the 60's when adolescent girls swung their hips to keep the cheap plastic hoola hoop circling their bodies like a planetular orbit of the sun to the 21st century high tech hoop the revolution rages on! With it's ability to shatter age and sex barriers,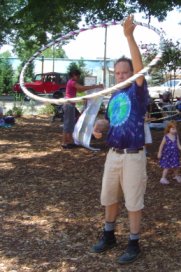 the hooping craze has now claimed as it's vicitms young boys barely able to walk, middle aged men who only a few years ago would have scoffed at the idea of hooping, grandparents who missed the craze the first time as well as every other sex, race, nationality and IQ level!
The Carrboro News, usually at the forefront of recognizing and reporting events was completely blindsided by this one. We'd heard about The String Cheese Incident, their cheesy stickers with the hoops but had assumed(wrongly) that this was a craze destined to fizzle and burn out as it had originally in the 60's.
We tried to ignore the story as long as possible, but when we saw Von Nugent(son of famous heavy metal rocker Ted Nugent), hooping it up along with internationally recognized bass player with the Off the Road Band, Michael Chandler, we knew we couldn't squelch this one any longer.
Realizing that I could wander over to the East Commons of Weaver Street Market where the hoopers congregate, talk to a few, take a few pictures and still not have to leave the sanctuary of the shade while I gathered information to wire a major story back to my editor, I decided it was worth the walk. You can imagine my surprise when I saw middle aged men and a young 8 year old girl swinging 2(yes, that's two- hoops at the same time!). How could my paper have been so blind! We really need to keep on top of the major trends and news of the day!(But to our credit we were the first of the major media outlets to take the position that invading Iraq would be a disaster!-We're good at recognizing the large and obvious trends- we just need to hone our skills on the smaller more insignificant ones!)
Still unable to understand the allure of the hoop, I decided to exercise my journalistic skills and ask a few of the hoopers why the engaged in such a sport(or is it a hobby?).
"The chicks, man.... the chicks really dig a guy who hoops", said one UNC student who wished not to be identified by name.
"My wife's always in my face" exclaimed an exhausted looking 20-something husband who claimed to have been hooping steadily for 3 hours. "With this hoop I can keep her at least two feet away!'
"I'm trying to loose weight, but I can't afford to join a gym or buy one of those fancy exercise machines...but I can afford a hoop!" replied an obviously obese woman who it looked like she would certainly benefit from any kind of exercise even a walk to the Weaver Street Dessert Bar wouldn't hurt!
I approached three woman who were standing along the sidelines, hoops in hand, having an animated discussion and obviously enjoying the magic of the hoops. "Don't tell anyone, but we don't hoop. We just love the hooping energy and are trying to integrate the good vibes into our consciousness without all the work!".

As I approached a young girl effortlessly swinging a couple of hoops, she looked at me, with a confident grin and said, "Hey Mr. Reporter, I can teach you to hoop if you like". Beaming that she recognized me for what I was, but not wanting to humiliate myself by having to awkwardly shift my hips in a circular motion(not unsimilar to what they refer to in The Bahamas as "grinding" your woman, I just patted her on the head and said "Thanks kid, I appreciate the invite...but I have a deadline to meet!... Maybe some other time!"

I slowly rode my bicycle home recognizing that my new profession with it's deadlines to meet, just like my 15 month old daughter, in tow and sleeping in the trailer behind me, were a welcome pair of built in excuses that would allow me to politely decline many uncomfortable invitations for years to come.